The 2019 CSIC Annual Review has been published and is now available online.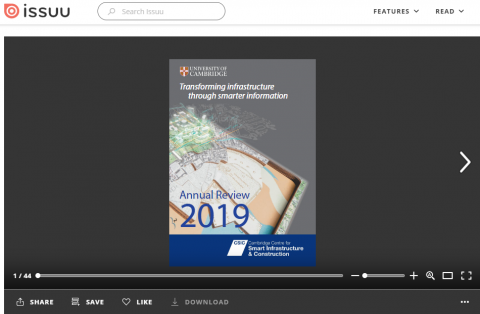 This year's Annual Review, which features a foreword by Andrew Wyllie, President of the Institution of Civil Engineers (ICE) and former Chief Executive of Costain, and a contribution from Karen Alford, Flood and Coastal Risk Manager for the Environment Agency, explores data as an engineering tool and the opportunity technological advancement and data abundance brings to transform infrastructure and construction.  
"The fourth industrial revolution has well and truly arrived. Driven by a fusion of rapid technological advancements, every sector of the economy now has available to it an amazing array of new tools and techniques to help deliver exceptional business performance" writes Andrew Wyllie, who describes CSIC as "at the very vanguard of this technological advancement… helping to support innovative, fast-moving, entrepreneurial organisations deliver a new era of infrastructure service and functionality". 
Karen Alford writes about maximising opportunities of digitalisation for whole-life management: "The industry-focused and collaborative work of CSIC is transforming approaches to asset management by providing tools for better decision-making. Using data as an engineering tool in this way brings insight and information to improve and add value to whole-life asset management." 
The Review features a number of current CSIC project case studies demonstrating how CSIC works with partner organisations to deliver effective solutions for industry, including: a fibre optic sensing system for safer real-time rockfall monitoring of rail cuttings; a data-led decision-making model to optimise sustainable economic growth and development; and the structural health monitoring of a skewed masonry arch bridge. 
Dr Jennifer Schooling OBE, Director of CSIC, highlights how data offers insights into how our infrastructure is used throughout its life. Dr Schooling champions the use of data to quantify carbon emissions and secure more value from our existing assets: "Our industry is embracing the digital revolution – we now need to transform our operational approaches to enable us to get maximum value from the data we are generating, not just for ourselves but for the generations that follow." 
A copy of the Review is available to all delegates at ICSIC, which starts on Monday (8 July). To read the 2019 Annual Review online, please visit Issuu or download a PDF. If you would like to receive a copy by post, please email Communications Manager Sophie Taylor – csic-comms@eng.cam.ac.uk. 
To read previous CSIC Annual Reviews, please visit the Newsletter and Annual Review page of the website.