An underground farming project is the focus for a business and finance cable television network CNBC programme presenting research aimed at reducing energy consumption. The programme features CSIC investigator and head of the cross-disciplinary Energy Efficient Cities Initiative (EECi) Dr Ruchi Choudhary and EECi PhD researcher Melanie Jans-Singh.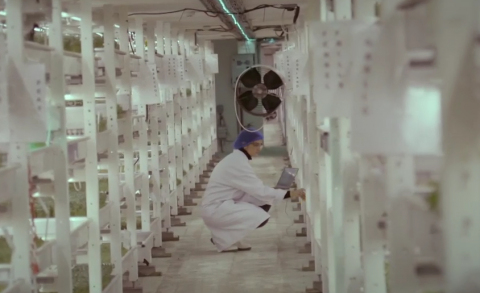 Image from the CNBC programme shows researcher Melanie Jans-Singh at the Growing Underground project
A number of statistics to highlight the need for increased energy efficiency are presented on the programme: buildings are responsible for 40 per cent of energy consumption and 36 per cent of CO2 emissions in Europe; 35 per cent of these buildings are more than 50 years old and 75 per cent of the building stock is energy inefficient; more renovation of existing buildings has the potential to reduce energy consumption by five to six per cent and lower CO2 emissions by five per cent.
Growing Underground is an award-winning urban farming facility creating energy-efficient growing conditions in former WW2 air-raid shelters 120ft below the busy streets of Clapham in London. Hydroponic systems and LED lighting are used to grow pesticide-free micro greens and salad leaves currently thriving with the help of a smart monitoring programme that records temperature, humidity and C02 levels. Real-time monitoring of the farm supports optimising yield while reducing energy consumption; leaves are harvested and delivered locally within four hours.
Melanie's research is using the Growing Underground case study to create a baseline simulation tool for integrating urban farming into other unused spaces. "It would be interesting to integrate rooftop greenhouses into schools to make use of waste heat and waste CO2 from the building itself to reduce energy consumption for the greenhouse. At the same time that clean air could be transferred back into the school to reduce energy required to heat and ventilate the building."
Currently Data-Centric Engineering Group Leader at the Alan Turing Institute (ATI), Dr Choudhary explains how the new collaboration with the ATI enables data analysis and modelling to combine seamlessly to support the expansion of the farm, and consider other derelict buildings that could potentially provide energy-efficient growing environments.   She said: "Growing Underground is a very good example of where a derelict space has been put to good use and we can think of further developing this model through tapping into other environments rich in waste, heat and CO2, such as hospitals and school buildings, which will have wider societal benefits."
Watch the CNBC programme here . See 1 minute 50 to six minutes 15 seconds.