A collaborative project between CSIC and industry partners Geocisa UK, Dragados and Transport for London, monitoring heritage buildings with fibre optic sensors during the Bank Station Capacity Upgrade, has won the New Civil Engineer (NCE) TechFest 2018 Award for Research Impact: Application in the Industry.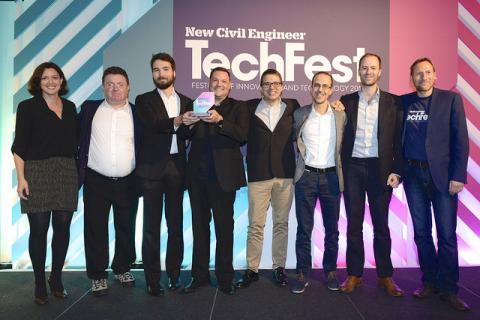 Photograph courtesy of New Civil Engineer TechFest 2018. The winning team (from left) Emily Ashwell, Associate Editor, New Civil Engineer, Phil Keenan, Dr Sinan Açikgöz, Jason Shardelow, Diego Del Saz, Julian Portillo, Mark Dewhirst, Mark Hansford, Editor of New Civil Engineer.
The winning team, who accepted the award at the NCE TechFest 2018 ceremony in London, included: Dr Sinan Açikgöz, former post-doctorate fellow at CSIC (funded by the Royal Commission of the Great Exhibition of 1851) and currently Associate Professor, Department of Engineering Science, University of Oxford; Phil Keenan, CSIC Business Development Manager; Jason Shardelow, CSIC Chief Technician; Diego Del Saz, Operations Director, Geocisa UK Ltd; Julian Portillo, Project Manager and Senior I&M Engineer for the Bank Station Capacity Upgrade Project, Geocisa UK Ltd; and Mark Dewhirst, Project Engineer at Transport for London.
The aim of the collaboration was to develop a strain monitoring system to monitor the structural response of Christopher Wren's Grade I listed St Mary Abchurch and George Dance's Mansion House in order to enable cost efficient construction of the tunnels during major works that are part of the ongoing London Bank Station Capacity Upgrade project.
The system has sufficient measurement resolution to detect damage development caused by tunnelling. The specific innovation currently in use on this live project comprises strings of custom-designed Fibre Bragg Grating (FBG) optical strain gauges that are attached to the structure being monitored. During monitoring, an interrogator periodically pulses light through the sensor chains and the reflected signal wavelength from each sensor is analysed to determine strain and temperature. After removing the effects of temperature automatically, the system delivers mechanical strain of the 80 sensors on the FBG strings, allowing remote data visualisation and management in real-time.
Direct and real-time monitoring of structural damage gave engineers confidence and the construction of the tunnels underneath these historic buildings proceeded safely without resorting to preventative measures. The monitoring system enabled savings in excess of £1m. The success of this monitoring project is the result of continued CSIC research on fibre optic sensing, which has transformed an emerging technology into a robust long-term sensing system (adopted in more than 100 construction sites) that has delivered real benefits to asset owners.
Dr Sinan Açikgöz, who led the project, said: "We are very excited to have won this award. Our work helped the efficient and safe construction of large tunnels under Grade-1 listed buildings in a historic area of London. It is great to be acknowledged for the teamwork with Geocisa, Dragados and Transport for London. This project demonstrates the shared benefits of collaboration."
Phil Keenan, CSIC Business Development Manager, said: "The rich strain data provided by the monitoring system allowed the engineering team to descope on a risk-based approach which may have required expensive mitigation measures such as compensation grouting. As well as savings in excess of £1m, the gathered data is expected to leave a learning legacy by providing a better understanding of structural behaviour during tunnelling. This technology has the potential to impact construction through the provision of real-time data and change how we operate and maintain built assets."
CSIC was also shortlisted for the Technology Driving Whole-Life Performance Award as well as a number of the NCE TechFest Best Use of Technology Awards, including Carbon Reduction and Enabling Smart Infrastructure. Ruodan Lu and Philipp Hüthwohl, PhD students at the Department of Engineering Construction IT Lab were highly commended by judges of the Innovation of the Year: Transport award for their project 'Automated System for Generating Digital Twins of Existing Reinforced Concrete (RC) Bridges'. Judges commented on the project: "A stunning piece of research which has enormous potential to revolutionise the way in which bridges are inspected. The judges are looking forward to seeing its real-world application." Maria Gkovedarou, a PhD student at the Laing O'Rourke Centre for Construction Engineering at the Department of Engineering, University of Cambridge, presented the shortlisted project 'Enhanced Digital Twin of Roads'.
The Centre for Digital Built Britain (CDBB) was one of the key sponsors of the event, and Professor Andy Neely, Director of CDBB and Pro-Vice-Chancellor for Enterprise and Business Relations at the University of Cambridge, addressed guests and presented the Judges Supreme Award: Digitisation for digital built Britain. This flagship award recognises the individual, company, research or project team that is doing most to drive the industry forward through technology adoption, with specific references with the challenges set out in Digital Built Britain, the government's strategy for moving the industry beyond BIM Level 2.
The NCE TechFest event featured live judging of the Best Use of Technology Awards in the afternoon before the winners were announced at the evening ceremony. This provided shortlisted candidates with an opportunity to share their innovations with industry as well as the judging panel. Held at the Grange Tower Bridge Hotel in London, the NCE TechFest Festival of Innovation and Technology attracted representatives of tech companies of all sizes, from small start-ups to global brands and academic researchers, to discuss and debate industry's biggest technological challenges and showcase a range of innovations.