The opportunities, challenges and considerations required to make the most of data abundance provided the theme of this year's CSIC Distinguished Lecture given by Dr Anne Kemp, Atkins Fellow and Chair of the UK BIM Alliance.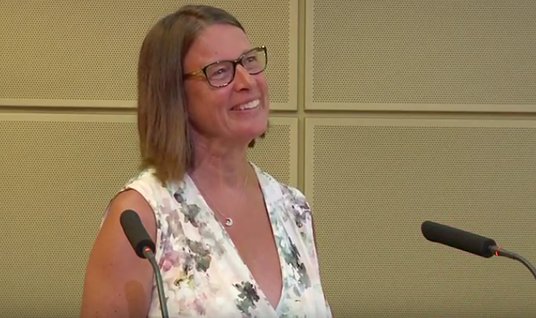 Image by Chris Loades. Dr Anne Kemp giving the CSIC 2018 Distinguished Lecture
Dr Kemp's lecture titled 'A glimpse into the future.... by considering the past. The challenges, the opportunities – and our consciences,' drew attention to the potential of smarter infrastructure to support a healthier and more prosperous society but raised questions about the ethics required to safeguard data use and how to ensure that, as humans, we remain an essential part of the decision-making process. Dr Kemp asked: "If we reflect on how mistakes have been made in the past, can this provide insight into how we can avoid some of the unintended consequences for the future?"
The thought-provoking lecture raised the importance of taking a multi-disciplinary and diverse approach to thinking about smart infrastructure and planning a future shaped by information derived from data. While smart infrastructure brings the opportunity to monitor how infrastructure interacts with the people and resources moving through it, the possible crossover from monitoring to manipulation requires awareness.
Dr Kemp said: "We have more data than we know what to do with. It is having a major impact on how we behave not just individually but as a society and globally and we need to be thinking about the implications of that really carefully.
"I want to touch your conscience and, if I don't make you a little uncomfortable in this discussion, then I have failed. I believe we all need to explore our decision-making processes, move out of our comfort zones and really push ourselves."
The stakes, argued Dr Kemp, are high: "I think this is an opportunity to create a challenge at a policy level and across disciplines about what we should be creating for the next century and beyond for our children, grandchildren and their descendants."
Highlighting a number of global challenges as presented in the United Nations (UN) 2015 document 'Transforming our World: the 2030 Agenda for Sustainable Development', the lecture brought focus to rising urbanisation, increased slum living, and pressure on resources. Dr Kemp referred to two of the UN Sustainable Development Goals: Industry, Infrastructure and Innovation – 'Build resilient infrastructure, promote sustainable industrialisation and foster innovation'; and Sustainable Cities and Communities – 'Make cities inclusive, safe, resilient and sustainable', saying:  "We need to find a way to bring these two goals together, consider how they interplay and ask ourselves if we are actually delivering them successfully."
In exploring this interplay, Dr Kemp questioned how much society has learned from lessons of the past. She gave the example of the 1854 cholera outbreak in London and the unwillingness of professionals and the public to consider Dr John Snow's theory that cholera was spread through contaminated water rather than miasma. "It took a force of change in 1858 for the assumptions being made by our policy makers – who were not listening to some of our great thinkers – that eventually led to Joseph Bazalgette being able to progress what we now know as the Victorian sewer system that transformed the quality of life for people in London."
Naming a number of contemporary examples of major infrastructure projects, including HS2, Crossrail and the Swansea tidal lagoon, Dr Kemp spoke about the Thames Tideway Tunnel sewer designed to tackle overflows from the now-failing Victorian system: "It has taken a long time for this to happen and the River Thames has suffered. Have we actually learned the lessons from the past? How much of our future potential is still limited by our prejudices, inbuilt assumptions, unconscious bias, flawed opinions and leadership not brave enough to think in a different way? How do we improve our thinking and challenge consensus of opinion so that we can make better progress? I would challenge there is nothing different today to how people thought in the 19th century."
While the potential uses of data, automation and robotics bring opportunities, human decision-making must not be overlooked: Employing automation and robotics to assigned tasks also requires careful consideration. "Robots can build walls but is that really what we want them for? Let's not use robots for what we can already do. If we need more space, perhaps we should be looking at living under water or in deserts. Could robots help to disperse resources in a way we have never conceived of before and make more land habitable?
"Let robots do the hard work and give us the data that we need to stimulate the right thinking."
Dr Kemp argued that critical thinking about smart cities needs a multi-disciplinary and multi-faceted approach; engineers must come together with technologists, social scientists and economists to be able to understand the intricate socio-political context of this discussion, challenge assumptions and capture diversity. "A lot comes down to behaviours and I think as engineers we should think about where behaviours need to be changed and challenged," she said.
Dr Kemp acknowledged the importance of standards to support a multifaceted approach to planning smart infrastructure and cities and called for a common language across standards and secure but open access to data. "It is important to understand what that data is serving and that it is available throughout the lifecycle of an asset and for all stakeholders. BIM is about data and information and liberating it from documents. Analysis shows 20 per cent of data is useable and 80 per cent is tied up in documents or proprietary formats. How can we use this data through whole life and for different stakeholders? It is not good enough."
Driving the necessary changes in standards is a challenge: "It is exhausting and overwhelming but we really need to do this. Data needs to be open so that it has the potential to be shared. The challenge for me is how we develop open shareable standards that allow for checking; allow for repeatable and improvable processes. All of those would have been very important to help avoid the Grenfell Tower fire tragedy."
Dr Kemp said:  "I hope the last year has made every single one of us uncomfortable. If there was one thing that should have woken us all up it was Grenfell. This is not just about high-rise and high-risk buildings – it could happen to our infrastructure. Chapter 8 of the report is gold dust to our industry as Hackitt identifies the fundamental need for us to look after the golden thread of building information, and I would say infrastructure information as well."
In conclusion Dr Kemp urged stepping back to look at the bigger picture. She challenged the presumption that urbanisation is inevitable and called for technologies to be employed to allow for a more distributed way of living. "One size does not fit all. Are we not simply matching supply with demand; urbanisation is happening so we do everything we can to facilitate urbanisation. Why not look at the behaviour and question what is driving so many people into cities? And we are not talking much about the hinterland – the areas between cities. How are we going to care for that part of the world?
"I am curious as to how we could use data to nudge our consciences and nudge better quality thinking which is unique to us as human beings. It is a real responsibility and challenge which I don't think we have yet considered."
Watch a video of the lecture on CSIC's YouTube channel here.
Download the lecture slides here.