Cementation Skanska and CSIC win the Editor's Award at the 2016 Ground Engineering Awards for the development of CemOptics.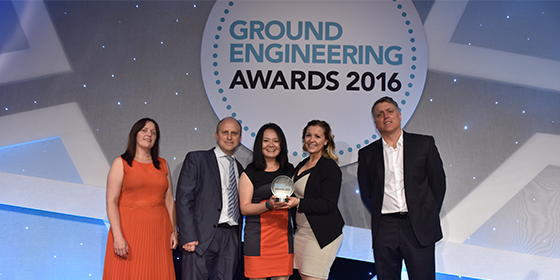 Over 600 industry professionals attended the GE magazine awards, held at the Park Lane Hilton in London, to recognise significant achievements in the ground engineering sector.
Cementation was recognised for the development of a new method of integrity testing deep foundations. The CemOptic technology, developed in conjunction with the University of Cambridge, uses sophisticated fibre optic technology to replace a common industry standard, high-risk operation and therefore improving safety.
The judges commended Cementation for its use of CemOptics on the Northern Line Extension project in London and for the quality, technical and operational benefits the new system delivers. The benefits it brings in terms of safety particularly impressed them.
Andrew Bell, Chief Engineer for Cementation, collected the award at the event. He said: "I am delighted that all the effort that has been put into this advancement over recent years is now being recognised.
"The development and delivery of this system has been a real team effort and the benefits are now being realised.
"The market for this system is significant and Cementation has invested in the necessary hardware and personnel to enable them to offer the technology on a large scale. This demonstrates our commitment to unlocking the power of technology and is another success story from working closely with academia.
Cameron Foley, Managing Director for Cementation said: "I am very proud of the team involved in bringing this technology to life.
"It shows what can be achieved when industry and academia collaborate to resolve real issues."
The Editor's Choice Award was selected from the finalists of every category, Cementation was a finalist in four categories.