Dr Keith Bowers, Head of Tunnels at London Underground and a member of CSIC's Steering Group, has been elected as a Fellow of the Royal Academy of Engineering. Fellowship of the Academy is considered to be one of the highest national honours that an engineer may receive.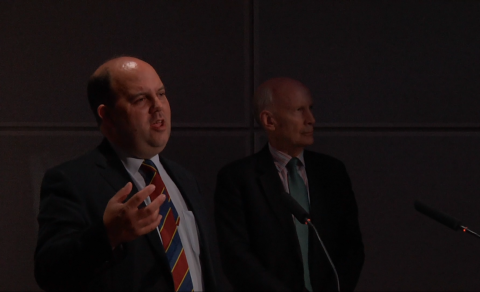 Image: Dr Keith Bowers (left), who has been elected as a Fellow of the Royal Academy of Engineering, presenting the CSIC Annual Lecture in 2015
Dr Bowers, who gave CSIC's Annual Lecture in 2015, has played a leading role in developing London Underground's risk-based engineering management to support successful delivery of the organisation's large and complex capital programme. A champion of the work of CSIC, he has promoted technological development and more efficient construction through the controlled adoption of new technologies.
As an Associate Director at Arup, he previously worked as discipline lead on several high-profile tunnelling projects including the Channel Tunnel Rail Link and King's Cross. Prior to this, Dr Bowers was engaged in tunnelling-related research for more than 10 years at the Transport Research Laboratory.
Each year, 50 of the UK's top engineers are elected as Fellows of the Royal Academy of Engineering, in a stellar list that features some of the world's leading innovators and business people, including Professor Lord Robert Mair, Head of CSIC. The 50 new Fellows of the Academy add their expertise to the Fellowship of 1,500 world-leading engineers from both industry and academia.
The Royal Academy of Engineering brings together the knowledge and experience of some of the best and brightest engineers, inventors and technologists in the UK and from around the world to promote excellence in engineering and to enhance and support engineering research, policy formation, education and entrepreneurship, and other activities that advance and enrich engineering in all its forms.
Read the full list of new Royal Academy of Engineering Fellows for 2017 here.