Dr Jennifer Schooling, Director of CSIC, has been elected as a Fellow of the Institution of Civil Engineers (ICE).
Image: Dr Jennifer Schooling, Director of CSIC, receives her fellowship certificate from ICE President and Head of CSIC, Professor Lord Robert Mair
Dr Schooling was presented with her fellowship certificate by ICE President Professor Lord Robert Mair, who is also Head of CSIC, at a special ceremony held at ICE's headquarters in Westminster, London. Professor Janet Lees, Professor of Civil Engineering, at the University of Cambridge, was also elected as an ICE Fellow and received her certificate on the same day.
"I am delighted to become a Fellow of the ICE and proud to be associated with the esteemed institution that does so much to champion the achievements of engineers and the important role of civil engineers and technicians across the world who design, build and maintain essential infrastructure," said Dr Schooling.  "I am particularly pleased to be elected as a Fellow in the institution's bicentenary year and to receive the certificate from Professor Lord Mair, the Head of CSIC, during his ICE presidency."
ICE Fellows are successful and well-respected civil engineering professionals who have made a major contribution to the industry and are seen as role models for other engineers.
Dr Jennifer Schooling was appointed Director of CSIC in 2013. Dr Schooling has secured £7.6m in grant funding from EPSRC and Innovate UK for the Centre. She is a Fellow of Darwin College and founding Co-Editor-in-Chief of the Smart Infrastructure and Construction Proceedings journal (ICE). A member of ICE State of the Nation 2017 'Digital Transformation' Steering Group, Dr Schooling is part of PAS185 Smart Cities security standard steering groups, the Tideway Innovation Forum and Tideway Academic Advisory Group and the UKCRIC standing committee. She worked in industry for Arup, leading the Research Business, and the Modern Built Environment Knowledge Transfer Network leading on the development of the agenda for the emerging Future Cities Catapult.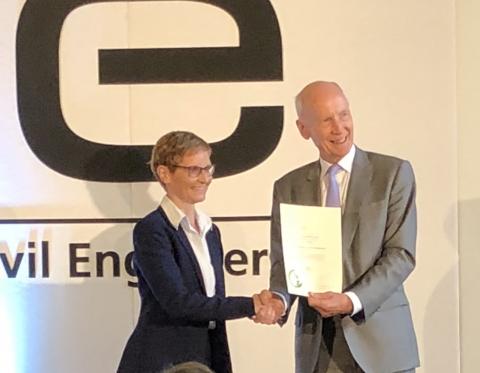 Image: Professor Janet Lees receives her fellowship certificate from ICE President Professor Lord Robert Mair
Professor Janet Lees is a Professor of Civil Engineering at the University of Cambridge and is a Chartered Engineer. Before embarking on a career in research, she spent three years in Industry working both for a consultant and for a contractor. She is the leader of the Concrete and Composite Structures Group (CCSG) within the Civil Engineering Division. She is a Fellow of St John's College and a Director of the University of Cambridge EPSRC Centre for Doctoral Training in Future Infrastructure and Built Environment.