New Civil Engineer, the monthly magazine for members of the Institution of Civil Engineers (ICE), has interviewed Head of CSIC and newly-appointed ICE President, Professor Lord Robert Mair, for the Presidential Interview feature.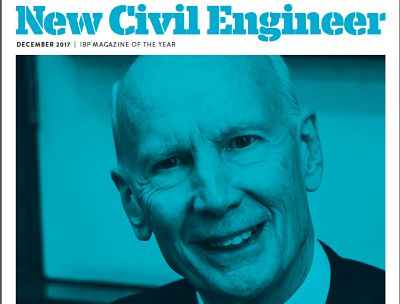 Image: Head of CSIC and ICE President, Professor Lord Robert Mair, features on the front page of New Civil Engineer magazine, December issue.
Reflecting on his engineering career path that has combined and consolidated industry and academia, Lord Mair acknowledges the importance of research having practical application. "My first 27 years were in industry and they have very much shaped my whole academic research agenda and made sure I've addressed some topics of real value," he says.
Lord Mair celebrates UK engineering as world-leading and argues that now is a time of opportunity to champion the industry. He believes that sensor technology is key to the future of civil engineering and acknowledges the contribution CSIC has made in facilitating the industry adoption of smart technologies. "Modern civils projects will very soon be routinely incorporating structural health monitoring, so we know what out infrastructure is doing and how it is performing. This is a big step change in civil engineering."
Recounting the valuable experience gained on the construction site, as well in the design office, during the early years of his professional life, Lord Mair says: "It is very important to work on site at an early stage in your career as the way you think about design is so transformed."
Engineers working in industry must, he says, stay abreast of research developments and new techniques coming out of academia. Turning to the words of Professor Sir Charles Inglis, himself a Cambridge academic and ICE president in the 1930s, Lord Mair concludes: "He said the most important achievement was to give students 'the right habit of mind'."
The Presidential Interview is in the December issue of the New Civil Engineer magazine. Read the full feature here.
For further information see: www.newcivilengineer.com.