Professor Lord Robert Mair, Head of CSIC, became the 153rd President of the Institution of Civil Engineers (ICE) last night (7 November) and presented his President's Address setting out his aims and objectives for the year ahead.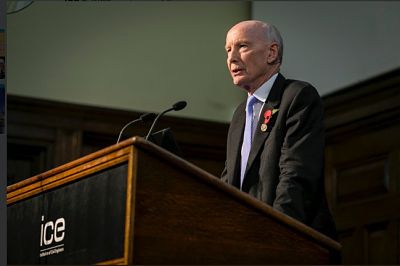 Image: Lord Mair makes his inaugural address as newly-appointed ICE President
In his speech titled 'Transforming Infrastructure, Transforming Lives – Building on 200 years', which was given to an invited audience of industry professionals and others at the London HQ of the ICE, Lord Mair acknowledged the challenges of the 21st Century, including climate change, population growth and rapid urbanisation, to consider how civil engineers can transform the lives of millions of people for the better.
To mark his presidency coinciding with the ICE 200 bicentenary, Lord Mair recognised the significant achievements of British civil engineering over the last two centuries, stating that civil engineers working today are as innovative and dedicated to solving problems now as they ever were.
"Throughout my career, I have seen first-hand how engineers can transform lives and I am excited at the prospect of a whole new era of smart technology. I plan to use the opportunity of my presidency to help make the profession of civil engineering fit for a digital future and ready for the potential changes to the way infrastructure is delivered," said Lord Mair.
"I see a great and vibrant future for our profession; for infrastructure and for the lives of every person on this planet, regardless of who they are or where they were born. The challenge now is to encourage young people from all backgrounds to join us in this profession, one which has the power – and the responsibility – to literally change the world for the better."
Using his time in office to look at how the profession can use new sensor technologies to transform infrastructure and improve the lives of the citizens it serves, Lord Mair's focus will not be on the past, but on the future. His speech highlighted a number of pioneering projects completed by his team at CSIC that demonstrate how technology is creating Smart Infrastructure and driving industry change. 
Lord Mair set out the opportunity for civil engineers to solve current global challenges and made a call to arms for the next generation to continue this timely and critically-important work by becoming engineers.
The President's Address was made to a gathering of ICE members, heads of institutions, peers, MPs, industry leaders and decision makers. Lord Mair also introduced his Future Leaders who will work with him during his year in office participating in projects that help make a real contribution to the profession.
Lord Mair's presidency of ICE will run from November 2017 to November 2018. During his year in office he will tour ICE's regional and international offices, promoting civil engineering to the general public. He will also be taking part in a series of activities throughout the year that will use the 200th anniversary of the institution to illustrate to the public the direct impact that civil engineering has on their lives.
A video and transcript of Lord Mair's speech is available here.
For further information about the ICE see https://www.ice.org.uk.