Professor Lord Robert Mair, Head of CSIC, gave the opening presentation at the National Infrastructure Commission's Future of Infrastructure 2019 conference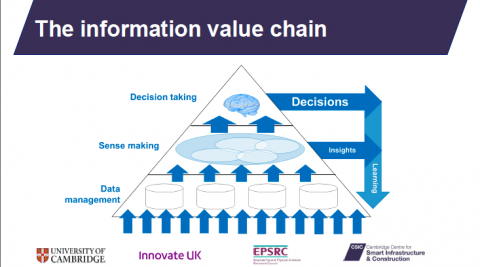 "Data is vitally important to maximise efficiency of new and existing infrastructure and the key to fully exploiting digital transformation of infrastructure and construction." Professor Lord Robert Mair
This important annual conference, held in London in July, brought together policy leaders and senior decision makers across transport, construction, energy, investment and government organisations to discuss, debate and determine the direction of the infrastructure industry in Britain. A number of expert speakers, including Professor Lord Mair, gave an overview of the state of UK Infrastructure considering how large-scale reform and collaborative working practices can provide the opportunity to radically improve the way infrastructure is managed.
Professor Lord Mair's presentation, titled 'How digital technologies are delivering efficient, connected and agile assets', explored accelerating the uptake of smart technologies – including wireless networks, sensors, machine learning, AI, cloud technology and end user connected devices – through people, partnerships and acquisition. Professor Mair urged embedding Infratech capabilities across all business lines and building a more agile innovation culture in a resource-constrained industry. The presentation also argued the huge potential for using innovative fibre optic sensor technology to continuously monitor the performance of both new construction and existing infrastructure.
Highlighting many projects CSIC has collaborated on with industry partners, including Abbey Mills Shaft, Crossrail and a Leeds masonry railway viaduct, Professor Mair made the case for combining advanced sensing with big data analytics to enable infrastructure as a system of systems and a system of services to deliver better environmental, social and economic outcomes.
Describing the 'information value chain' as a process where the sense making of data management leads to better decision-making, learning and insights, Professor Mair spoke about infrastructure as a cyber physical system resulting in smart infrastructure where real-time data from the physical asset creates the digital twin.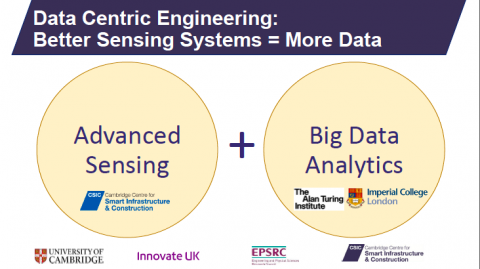 Concluding the presentation that opened the event, Professor Lord Mair brought focus to the value sensors and smart infrastructure deliver when they are exploited for managing assets, including roads, tunnels, bridges, sewers and flood defences, throughput the asset's life. Bringing attention to the benefits of smart infrastructure to enable a full understanding of the performance of assets during construction and throughout the design life, Professor Lord Mair spoke of the greater efficiencies in design and performance and rational strategies for whole-life maintenance and asset management. He said: "Data is vitally important to maximise efficiency of new and existing infrastructure and the key to fully exploiting digital transformation of infrastructure and construction."