Professor Lord Robert Mair speaks on BBC Radio Cambridgeshire about tunnelling beneath Cambridge to create a mini-metro system.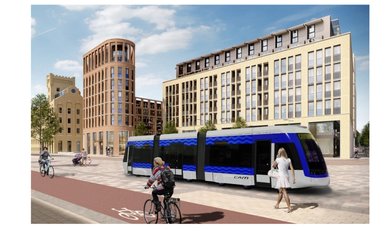 Image from the Greater Cambridge Mass Transport Options Assessment report by Steer Davies Gleave
As a world-leading tunnelling expert, the Head of CSIC and President of the Institution of Civil Engineers (ICE) spoke about the suitability of Cambridge for the prospective underground infrastructure project. He confirmed that Cambridgeshire's soil suited tunnelling and that it made sense to create a transport system that encouraged people out of their cars and reduced traffic congestion.
"The geology of the Cambridge area is very well suited for tunnelling. The tunnels would only need to be 15m below ground level to be in Gault clay which is strong and stable and ideal for tunnelling," said Lord Mair.
The radio interview, broadcast on the Dotty McCleod Breakfast Show on Wednesday 31 February, followed a report from Cambridgeshire and Peterborough Combined Authority that considered ways to deliver a high quality mass transit system to the city. Recommendations included the Cambridgeshire Autonomous Metro (CAM) that would comprise 6km of tunnels connected to Cambridge and Cambridge North railway stations as well as additional bus routes.
The infrastructure project could cost £1.5 billion and the Combined Authority board has now approved £600,000 to develop a Strategic Outline Business Case and Options Appraisal.
Citing the Crossrail project in London as an example of technological advancement in this field, Lord Mair said: "The UK is one of the foremost tunnelling countries in the world. We know a lot about tunnelling – how to do it and how to do it economically." 
Listen to the interview here – starts at 13.20.