CSIC was delighted to receive the The Duke of York on Tuesday 1 May at CSIC's offices, in the James Dyson Building at the Department of Engineering at the University of Cambridge.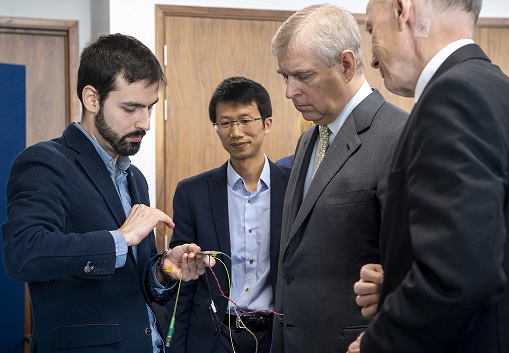 Dr David Rodenas Herráiz and Dr Xioamin Xu demonstrate sensing technology to HRH The Duke of York Picture: Keith Heppell
The Duke of York supports a number of science and technology organisations, including being a Patron of the Institution of Civil Engineers (ICE).  During his visit to CSIC HRH was welcomed by Professor Lord Robert Mair, Head of CSIC and current ICE President, Dr Jennifer Schooling, Director of CSIC and Director of the Research Bridgehead at the Centre for Digital Built Britain, and Professor Simon Guest, Head of Civil Engineering.
A number of CSIC Research Associates presented the latest research projects and deployments in smart infrastructure and construction to The The Duke of York.  These included:
• demonstration of fibre optic sensing on CSIC's model of a self-sensing bridge featuring wireless and acoustic sensors  
• monitoring heritage buildings in London during adjacent tunneling  
• analysis techniques to make sense of vast quantities of data
• integrating urban farming into derelict spaces and optimising the use  of underground spaces within densely populated cities.
Professor Lord Robert Mair, Head of CSIC, said: "We are delighted to welcome The Duke of York to CSIC and have the opportunity to showcase some of the innovations that are transforming infrastructure and construction. The team at CSIC have contributed to a number of pioneering projects, including Crossrail, that demonstrate how technology is creating Smart Infrastructure and driving industry change.
"As an ambassador for technology and engineering HRH appreciates the significant opportunities that advancements in digital technologies brings. As we face the challenges of the 21st Century, including climate change, population growth and rapid urbanisation, it is the work of civil engineers which will provide solutions to these challenges that will help to change the lives of millions of people for the better."
The Duke of York promotes and raises awareness of British science, technology and engineering expertise.  HRH also engages with organisations to support initiatives which attract increased investment into UK science, technology and engineering.
During his visit to Cambridge, The Duke of York also visited the new Gresham Court building at Hughes Hall and, as Patron of The Entrepreneurship Centre, Cambridge Judge Business School, HRH opened the Simon Sainsbury Centre at Cambridge Judge Business School.  HRH was accompanied by the Lord- Lieutenant of Cambridgeshire, Julie Spence OBE, QPM.