The full programme for the International Conference on Smart Infrastructure and Construction (ICSIC), that takes place at Churchill College, Cambridge, is now available to view online.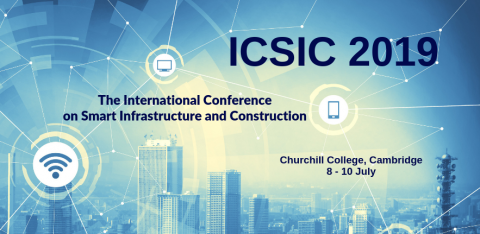 Each of the three conference days starts with a keynote speaker: On Monday 8 July, Keith Bowers, Transport for London, will present 'Smart Infrastructure and Construction: serving society's needs; on Tuesday 9 July, Dr JP Lynch Donald Malloure Department Chair of Civil and Environmental Engineering, University of Michigan, Ann Arbor, Michigan, USA, will present 'Enhancing Urban Resiliency in Smart City Technologies: experiences in prototyping solutions with cities; and on Wednesday 10 July, Professor Y Fujino Institute of Advanced Sciences, Yokohama National University, Japan will present 'R&D Governmental Program in Japan for Efficient Maintenance, Renovation and Management of Infrastructure'.
In addition, the programme lists all of the workshops and presentations exploring set themes including: Construction; Sensors; Cities; Infrastructure and Policy; Asset Management; Geotechnical; Digital; and Structures. The online programme offers an overview of the entire agenda and full details of the presentations featured in each of the parallel-running sessions. Information on informal gatherings, including Posters and Pints, and formal events, including the Conference Dinner at St John's College, is also included.
As well as the opportunity to hear from world-leading academics and practitioners from the fields of infrastructure planning, asset management and sensing, ICSIC is a unique opportunity for discussion and collaboration.
See the full ISCIC 2019 programme here.