The annual CSIC Industry Partner Garden Party, held at Peterhouse College, showcased a range of innovative Research Associate projects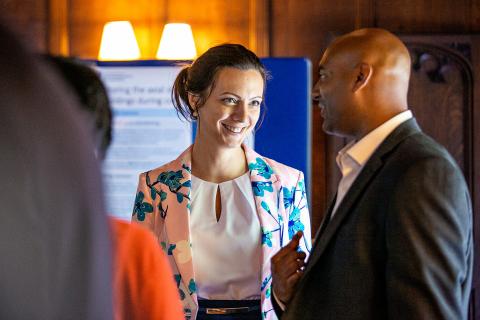 The event, which was held at the University's oldest College (founded in 1284) welcomed a number of CSIC partners from a range of organisations including: Arup; BP; Chartered Institution of Civil Engineering Surveyors (ICES); Construction Industry Research and Information Association (CIRIA); Costain; EDF Energy; Geotechnical Observations; Highways England; HS2; Mott MacDonald; Senceive; TfL; and Topcon.
Professor Lord Robert Mair, Head of CSIC, welcomed partners, CSIC Steering Group members and associates to the event, acknowledging the collaboration between research and industry that is critical to driving change in infrastructure and construction.
Representatives from the partner organisations enjoyed afternoon tea and a poster session before watching six fast-paced, Pecha Kucha-style presentations showcasing a variety of CSIC's innovative research projects. There was time for questions following the presentations, which invited partners to find out more about the projects of interest. Dee Dee Frawley, CSIC Programme Manager, announced this year's Partner Strategy Day, to be held on 3 December, which will focus on industry's next generation challenges.
Jennifer Schooling, Director of CSIC, introduced the presenters who had the task of communicating their research projects in a concise and fast-paced format comprising 12 slides shown for 20 seconds each.
Dr Schooling said: "Collaboration with partners in the infrastructure and construction industry and related organisations is key to success and it is through these collaborations that CSIC is able to initiate projects that harness new technologies and methodologies to provide solutions to real industry challenges."
The CSIC Pecha Kucha-style presentations are now available to view:
Distributed fibre optic sensors for monitoring tall buildings during construction – Dr Nicky de Battista. View here
Ageing infrastructure: towards a more effective asset management and operation – Dr Haris Alexakis. View here
Innovative wireless sensing technology for civil infrastructure monitoring – Dr David Rodenas-Herráiz. View here
Digital cities for change – Dr Timea Nochta. View here
Smart infrastructure and its impact on urban resilience – Joseph Ruxton. View here
Sowing seeds in the urban fabric – Melanie Jans-Singh. View here.
Read more about working with CSIC here