The 2019 International Conference on Smart Infrastructure and Construction (ICSIC) will bring together world-leading academics and practitioners from the fields of infrastructure planning, asset management and sensing.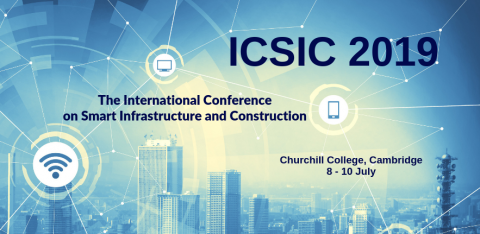 Registration for this event is now open.
The unique combination of fields and disciplines focusing on the power of smarter information will provide opportunities to confront persistent barriers and develop novel, proactive solutions.
Confirmed keynote speakers for ICSIC 2019, which takes place between Monday 8 to Wednesday 10 July at Churchill College, Cambridge, include:
Dr Keith Bowers FREng is Head of Profession: Civil Engineering and Built Environment at Transport for London (TfL). Dr Bowers has played a leading role in developing London Underground's (LU) risk-based engineering management to support successful delivery of the organisation's large and complex capital programme.
Jerome P Lynch is Professor and Donald Malloure Department Chair, Department of Civil and Environmental Engineering, University of Michigan, and Director of the Laboratory for Intelligent Systems Technology (LIST). Professor Lynch works at the forefront of deploying large-scale sensor networks to the built environment for monitoring and control of civil infrastructure systems including bridges, roads, rail networks, and pipelines.
Yozo Fujino is Professor, Department of Civil Engineering, University of Tokyo, and Honorary Member of the International Association for Bridge and Structural Engineering (IABSE). Professor Fujino is a world-famous expert in bridge dynamics, wind effects of structures, passive/active control technology and monitoring of bridges, with a special focus on long-span bridges.
In addition to keynote speakers there will be conference and poster presentations, drinks receptions, networking opportunities and a conference dinner at St John's College on the evening of Tuesday 9 July. Full programme details will be available soon at the ICSIC 2019 website. 
Dr Jennifer Schooling OBE, Director of CSIC, said: "ICSIC 2019 marks a significant event in the smart infrastructure and data-driven engineering calendar. Attracting key speakers from industry and academia who are world-leading experts in their fields, this event creates a unique opportunity for discussion and collaboration with the shared ambition of transforming the future of infrastructure through smarter information."
ICSIC 2019 will provide a dynamic platform for researchers and academics working in the fields of geotechnical and structural engineering, structural health monitoring, asset management and city scale infrastructure planning and the use of smarter data in cities. The conference will also be of interest to decision makers and analysts from industry and government responsible for: design, construction and operation of infrastructure assets; asset management and specification; and procurement of major infrastructure assets.
The International Scientific Committee for ICSIC includes:
Professor Stuart Barr, Newcastle University, UK (Area Chair, Digital Data/Data Analytics)
Professor Michael Batty, University College London, UK
Professor James Brownjohn, University of Exeter, UK (Area Chair, Structural Monitoring)
Dr Ruchi Choudhary, University of Cambridge, UK (Area Chair, Cities)
Dr Matt DeJong, UC Berkeley, USA (Programme Co-Chair)
Professor Yozo Fujino, Yokohama National University, Japan
Dr Chris Goodier, Loughborough University, UK (Area Chair, Construction)
Dr Ying Jin, University of Cambridge, UK (Area Chair, Infrastructure and Policy)
Professor Werner Lienhart, TU Graz, Austria (Area Chair, Sensors)
Dr W Allen Marr, Geocomp, USA
Professor Tom O'Rourke, Cornell University, USA
Dr Ajith Parlikad, University of Cambridge UK (Area Chair, Asset Management)
Professor Bill Spencer, University of Illinois, USA
Dr Jamie Standing, Imperial College, London, UK (Area Chair, Geotechnical)
Professor Giulia Viggiani, University of Cambridge, UK (Programme Co-Chair)
Professor Hehua Zhu, Tongji University, China
Organised by CSIC, the committee comprises: Dr Jennifer Schooling OBE, Director of CSIC; Professor Lord Robert Mair, Head of CSIC and former ICE President; Professor Daping Chu, Head of the Photonics & Sensors Group in the Electrical Engineering Division; Dr Ioannis Brilakis, Laing O'Rourke Reader in Construction Engineering at the Division of Civil, Structural and Environmental Engineering; and Dr Giovanna Biscontin, University Lecturer in Geotechnical Engineering.
Register and read more about ICSIC 2019 here.