A partner event to show the value of data in supporting engineering, construction and asset management practices was hosted by CSIC and CIRIA (Construction Industry Research and Information Association).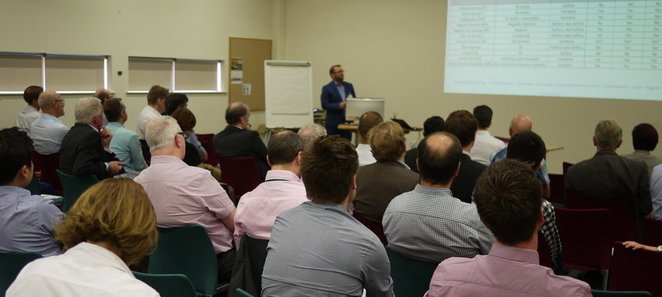 Image:  Jon Watson, Director of Infrastructure Inspection and Monitoring, Mistras Group, presents to delegates at the Value of Data in Construction and Asset Management event
Focusing on the value of data in the whole life of infrastructure projects, the Value of Data in Construction and Asset Management event shared research and insights from case studies and practice from a range of experts from CIRIA, CSIC and their partners including: Jennifer Schooling, Director of CSIC; Lee Kelly, Project Manager CIRIA; Alexandra Bolton, Deputy Director of the Centre for Digital Built Britain (CDBB); Mark Enzer, Chief Technical Officer, Mott MacDonald and Chair of the Digital Framework Task Group; and Keith Bowers, Professional Head of Civil Engineering and Build Environment, Transport for London.
Dr Schooling's presentation set the context for further discussion and brought attention to the critical role of existing infrastructure that accounts for 99.5 per cent of the UK's current infrastructure estate. Dr Schooling said: "We need to use our existing infrastructure better. We can't build ourselves out of a capacity problem – we have to be smart." The importance of curating data well in order to make it readily available and accessible for future use was also highlighted. "Our data has to be retrievable for us to extract the full value from it," said Dr Schooling.
The event was held at the Institute of Manufacturing (IfM) at the University of Cambridge and delegates included many CSIC industry partner organisations. CIRIA and CSIC are both champions of developing good practices and delivering research that supports a digital transformation in the infrastructure and construction industry. The respective institutions have shared interests and objectives that encourage proactive engagement with engineering, construction and asset management practitioners/academics and enable knowledge transfer to improve both practice and research.
In his presentation Lee Kelly set out the role of CIRIA, which is a neutral, not-for-profit and member-based organisation: "Our role is to champion performance in construction and to improve the quality, efficiency and safety of the modern built environment. As an organisation we work to provide evidence that supports client confidence to invest in solutions."
The role of data in transforming the built environment is key: "Data runs through everything but extracting the full value requires investment in skills and resources. How organisations structure themselves to use data will be important as will engineers working alongside data scientists."
Alexandra Bolton spoke about the remit for the Centre for Digital Built Britain (CDBB), a joint partnership between the University of Cambridge and the Department for Business, Enterprise and Industry Services funded at Budget 2017.  As custodian of the government's Digital Built Britain and UK BIM programmes, CDBB provides industry with a coordinated vision and roadmap for the future digitisation of the built environment. Presenting the Centre's Build/Operate/Integrate vision for digital built Britain that has the potential to release an enormous amount of value, she said: "We need to consider how we can use the data coming from a wide range of sources to help us better manage our assets and create better value and experience for the end users."
Building on the theme of extracting value from data, Mark Enzer, chair of the newly-formed CDBB Digital Framework Task Group that will draw together key organisations and initiatives to steer and guide the successful development and adoption of a digital framework for infrastructure data, said:  "Making better use of data throughout the infrastructure cycle is central because there is a clear connection between infrastructure data and the outcomes for the ultimate customers – better decisions, based on better data, lead to better outcomes."
Keith Bowers brought the day to a close by considering the value of data from a client's perspective. He said: "The potential value of data is huge to our sector and we need to embrace it. There are challenges and we have a lot to learn. To succeed we need to ensure we have the right controls which do not obstruct innovation and we need to be open minded."
Presentations included:
Getting more from strategic assets – the role of data
Jennifer Schooling, Director, CSIC
CIRIA's role in improving industry practices
Lee Kelly, Project Manager, CIRIA
The framework to deliver a digital built Britain
Alexandra Bolton, Deputy Director, Centre for Digital Built Britain
Developing a national framework for infrastructure
Mark Enzer, Chief Technical Officer, Mott MacDonald
Using monitoring data for more efficient design, construction and operation of infrastructure
Dr Nicky de Battista, Research Associate, CSIC
Non-destructive testing for infrastructure asset management
Jon Watson, Director of Infrastructure Inspection and Monitoring, Mistras Group
Monitoring to improve assessment of ageing masonry structures
Dr Matthew DeJong, Investigator, CSIC
Analysis and management of data for long term structural health monitoring for civil infrastructure; Staffordshire bridges
Dr Liam Butler, Research Associate, CSIC and Group Leader, Alan Turing Institute
The responsibility to provide and maintain data of value in structural health monitoring
John Webb, Regional Director, AECOM, and Peter Sparks, Associate Director, AECOM
Data requirements for, and outputs from, the deterioration modelling of civil engineering assets - results from CIRIA Project RP1047
Leo McKibbins, Technical Director and Account Leader, Civils Asset Management Team, Mott MacDonald
Data driven asset management
James Heaton, PhD Researcher, CSIC
A client view
Dr Keith Bowers, Professional Head of Civil Engineering and Build Environment, Transport for London