This week marks the last opportunity to visit the popular Tunnel Engineering Exhibition at the Institution of Civil Engineers (ICE), in London, before it closes on 9 November.
The Tunnel Engineering Exhibition is a chance to see the hidden world of underground engineering and follow a timeline through engineering history, from the worms that inspired Marc Isambard Brunel to the mechanical giants burrowing under our modern cities.
The work of CSIC is part of the exhibition and includes a fascinating short film about the award-winning Smart Tunnel project. During the initial stages of the £15 billion Crossrail scheme, engineers faced uncertainty about the likely modes and levels of deformation to existing tunnels during excavation of new tunnels dug in close proximity.
A team of CSIC researchers installed four different pioneering monitoring devices, including wireless sensor network displacement transducers, fibre optic strain sensors, wireless linear potentiometric displacement transducers (LPDTs) and photogrammetric monitoring, at specific locations inside a 40-metre stretch of the disused, 100 year-old Royal Mail tunnel. The devices successfully collected data that measured the behaviour of the existing tunnel during the extreme engineering scenario as new, large Crossrail tunnels were excavated immediately below. These insights provided accurate and validated information to Crossrail and knowledge shared with other asset owners and industry to better inform future infrastructure projects.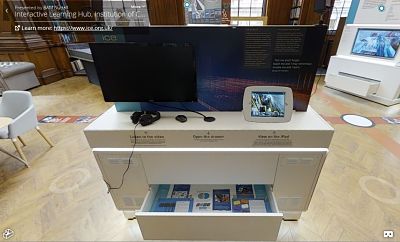 Two display cases present and explain innovative sensing devices including distributed fibre optic sensing (DFOS) and the multi award-winning miniature UtterBerry sensor.
The Tunnel Engineering Exhibition is open Monday to Friday 10am to 5pm and is free to the public. The exhibition is located in the ICE library at:
The Institution of Civil Engineers
One Great George Street
Westminster
London
SW1P 3AA
United Kingdom
https://www.ice.org.uk/events/exhibitions/ice-tunnel-engineering-exhibition#tunnel-exhibition-home
A virtual tour of the exhibition is available online at: https://www.ice.org.uk/events/exhibitions/ice-tunnel-engineering-exhibition#exhibition-tour.