How academia and industry can work together to drive innovation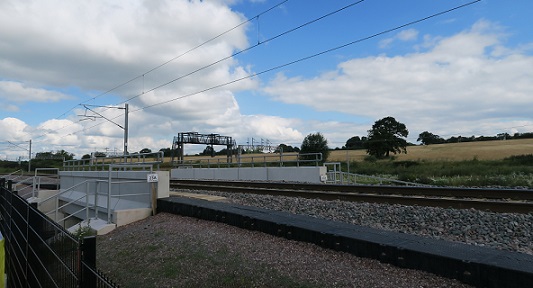 Image: Underbridge 11, part of the Stafford Area Improvements Programme - A prestressed concrete girder bridge with cast-in-situ concrete deck instrumented with distributed and discrete fibre optic sensors
The original version of this article first appeared in Infrastructure Intelligence
Issue 21: November - December 2016
Major infrastructure projects, including Crossrail and HS2, are adopting innovation as a driving force, but wider industry take-up is required for change to be truly transformative. 
It is vital for industry to invest in new technology – the economy of this country depends on having modern, fit-for-purpose infrastructure – and collaboration between academia and industry is key to this investment. Such collaboration brings benefits to all stakeholders, including researchers, asset owners and managers and the end users.
The Staffordshire Alliance, which comprises Atkins, Laing O'Rourke, Network Rail and VolkerRail, provides an award-winning example of the positive effects of collaboration. By working together, this multidisciplinary team successfully delivered the Stafford Area Improvements Programme (SAIP), a £250 million rail upgrade and development project on the West Coast Main Line, under budget and more than one year ahead of schedule.
Collaboration with academia secured innovation as an integral part of this project. Jointly funded by the Engineering and Physical Sciences Research Council (EPSRC) and Innovate UK, the Centre for Smart Infrastructure and Construction (CSIC) at the University of Cambridge is a hub for the infrastructure and construction industry, bringing together leading academics and industrialists, developing a faster route for innovation adoption, providing an ecosystem for building confidence in new innovations and enabling their timely implementation and exploitation. CSIC collaborates with more than 40 Industry Partners across a wide range of projects to implement innovation in this crucial sector of the economy.
Working with Industry Partners Network Rail, Laing O'Rourke and Atkins, CSIC engaged with the Staffordshire Alliance at the early stages of this project to deploy novel fibre optic sensor (FOS) networks for use in short and long-term performance monitoring, delivering the most comprehensively instrumented new rail bridges in the UK. More than 500 discrete sensors and in excess of 600 metres of distributed sensing cable were installed on two of the eleven new bridges being constructed as part of the scheme. The pervasive network of fibre optic strain cables, akin to a nervous system in a living organism, can sense strain changes in a structure caused by external forces. The bridges, completed in April 2016, are more than just passive masses of concrete and steel – they act as 'self-sensing' structures capable of informing asset managers and engineers of their changing condition.
The benefits of this productive alliance between academia and industry are numerous. The project has led to the development of procedures to integrate sensing technologies during on-site and off-site construction in concrete bridge beams, on steel beams, and within concrete bridge decks. This achievement was largely possible due to Laing O'Rourke's drive to include innovation as an integral part of the project from the beginning. This forward thinking has reaped rewards; integrating the 'self-sensing' innovation enables Laing O'Rourke to access information on the performance of their assets throughout the construction process – providing the quantifiable means on which to confirm the quality of workmanship.  
Data generated by sensor technologies enables the continued monitoring of an asset throughout its productive lifecycle. For designers Atkins, the 'self-sensing' bridges can provide critical information about the actual stresses and strains that the bridges experience under real loading conditions – information that most engineering designers simply do not have access to. Understanding of the performance of infrastructure through structural health monitoring, both during its construction and throughout its design life, enables fresh thinking in future railway bridge design to minimise use of materials, energy and labour while still ensuring resilience.
The monitoring system has the potential to be controlled remotely, allowing data to be collected, analysed and assessed in real time from an asset manager's office. Based on the analysed data, the system can provide the quantitative evidence for removing the uncertainties when determining additional structural capacity in the future. Using real performance data gathered over time to inform maintenance schemes will represent a step-change in how these types of assets will be managed in future.
In terms of the wider academic and scientific impact, the installed fibre optic sensor networks will continue to provide researchers with a real world laboratory for studying the behaviour of railway bridges for many years to come. Therefore, instead of operating as separate entities, industry and academia can become strong allies in driving innovation, reaping its associated benefits, while at the same time changing the way we currently design, build and manage our infrastructure.
• Dr Liam Butler is a Research Associate at CSIC. See www.centreforsmartinfrastructure.com and @CSIC-IKC.