The annual symposia AUM (Applied Urban Modelling) 2017 featured the CSIC-hosted workshop, Emerging Connections: Tomorrow's Cities and their Infrastructure, which marked the first event in the Centre's new Transitioning Cities programme, which is sponsored by the Ove Arup Foundation.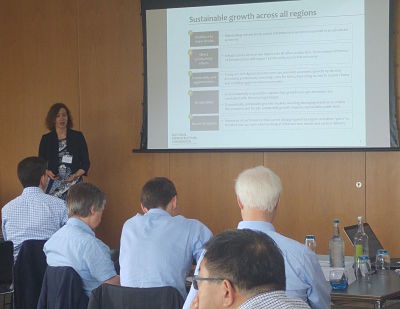 Image: Andrea Silberman, Senior Economic Adviser, UK National Infrastructure Commission, presenting at CSIC's Emerging Connections workshop
The two-day event, which attracted delegates from academia, industry, government and policy-making organisations, brought focus to discussion of applied urban simulation models that offer insights into urban change and inform practical policy initiatives.  The Emerging Connections workshop, held at Robinson College at the University of Cambridge on day two, explored the challenges of integrating the various approaches endemic to the wide range of disciplines and professions involved in managing and designing our cities and urban spaces. In a world where big data is becoming ubiquitous, our traditional professional and academic silos are not appropriate to address the challenges of designing interventions that meet the needs of diverse urban citizens.
Bingyu Zhao, CSIC Doctoral Researcher and one or the organisers of Emerging Connections, said: "The workshop provided a great opportunity for individuals and organisations with an interest in future cities to come together to share their visions, successes and also frustrations with other delegates. We enjoyed nine diverse presentations, which ranged from academic work to industry practice, from high-level policy making to intriguing tools built on social networks. Also, the discussions after each themed presentation sessions were particularly eye-opening and beneficial, with participants expressing their views, sometimes conflicting, to discuss and debate. At the end, everybody was able to take away new ideas with them."
The Ove Arup Foundation Transitioning Cities programme explicitly encourages debate across the social and physical sciences, recognising that the language and concepts employed differ, but the focus on cities, urban spaces and citizens is shared across the related fields.
Emerging Connections presented a number of focused workshop sessions, each featuring three presentations. These included:
1. An integrated approach to infrastructure and cities
Assessing the performance of infrastructure across space: Andrea Silberman, National Infrastructure Commission
Smart infrastructure for a smart future city – future-proofing cities: Navil Shetty, Atkins
A geospatial framework for integrated urban and infrastructure systems modelling: Stuart Barr, Newcastle University
2. The role of digital technologies in experiencing and managing the city
Moving from productivity to social outcomes – the journey from Digital Built Britain Level 3 to Level 4: Mark Bew, Digital Built Britain
Digital visualisations as tools for exploring different kinds of smart: Professor Gillian Rose, Open University and Oxford University (from Oct 2017)
Digital Agenda for Cities – outcomes delivered by an ecosystem: Volker Buscher, Arup
3. Urban planning and economics of cities
Delivering prosperity and diversity through business improvement district projects: Ruth Duston, Victoria BID
The future of planning: Stephan Webb, Future Cities Catapult
Sensory mapping: Luca Aiello, NOKIA Bell Labs
Future Transitioning Cities events will be previewed on the CSIC website, events overview.