Professor Lord Mair, Head of CSIC, has been appointed to the House of Lords Select Committee on Science and Technology. This was announced on 25 May.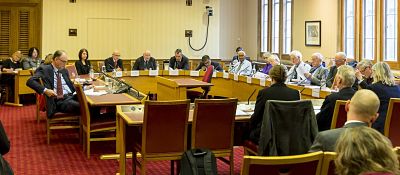 Image: A meeting of the Select Committee on Science and Technology (2015). Copyright House of Lords 2016/Photography by Roger Harris
The Committee, which has a broad remit 'to consider science and technology', is to conduct a short inquiry into the future of Innovate UK, the agency responsible for driving forward UK innovation. In June the Committee will examine the implications of the Government's newly announced plans to incorporate Innovate UK into UK Research and Innovation alongside the Research Councils and Research England. Oral evidence sessions will take place.
This inquiry follows the suggestion by the Nurse Review (the report by Royal Society president Sir Paul Nurse, published in November 2015, calling for greater collaboration between scientists and the Government) to integrate Innovate UK into a body that also incorporated the Research Councils.
The November 2015 Spending Review announced that the Government would look to follow this recommendation. A brief consultation was held by the Department for Business, Innovation and Skills, in February 2016, with some raising concerns about the proposal. The White Paper announced that a new umbrella body UK Research and Innovation will be created, incorporating the Research Councils, Innovate UK and Research England. It was also announced in the November 2015 Spending Review that the Government plans to broaden the type of financial support available for innovation and to change Innovate UK's existing funding model.
The Committee will also investigate other potential changes and seek perspectives from industry, funding bodies and the Government. The short inquiry hopes to hear perspectives on the current effectiveness and future potential of Innovate UK following these structural changes.