Professor Lord Robert Mair, Head of CSIC, states the case for smart infrastructure as key to the success of smart cities in an article featured in the Journal of The Foundation for Science and Technology.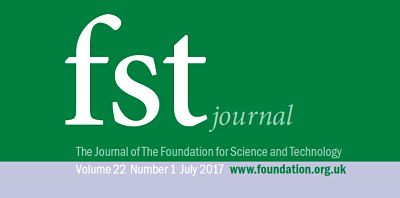 In 'Taking a smart approach to 21st century infrastructure', Professor Mair considers how science and engineering can contribute to the smooth running of a smart city where people want to live and work. Bringing focus to the contribution of physical infrastructure to what makes a smart city attractive to citizens, he presents a number of CSIC-developed innovative sensor technologies and monitoring projects that highlight how smart infrastructure supports a full understanding of the performance of assets, both during construction and throughout operational life.
Professor Mair writes: "CSIC is interested in modelling urban development, human interactions with infrastructure and whole-life value approaches to asset management. This is not just about building another piece of infrastructure but also providing smart information for asset management, design and construction. That allows performance to be tracked all the way through the life of the asset, indicating whether it needs to be repaired, maintained, or part of it replaced."
Listing the reasons why smart cities need smart infrastructure, Professor Mair presents a number of key points:
•  much of our infrastructure is old and often has to accommodate different loadings today than when it was designed
•  smart infrastructure can alert owners and operators about vulnerabilities before problems become critical
•  continuous condition monitoring can enable a rational, risk-based approach to asset management of infrastructure throughout its lifetime
•  innovative sensor technologies applied to advanced health monitoring can lead to considerable design and performance efficiencies for infrastructure.
The article follows a debate, held at the Royal Society in May of this year, which was hosted by the Foundation for Science and Technology (FST). The Foundation's purpose is to provide a neutral platform for debate of policy issues that have a science, engineering or technology element. Titled 'Making cities work - the application of technology, science and infrastructure improvements to create a place where citizens wish to live', Professor Mair introduced the debate and was followed by Dr Tom Saunders, Senior Researcher, International Innovation, NESTA and Councillor Peter Marland, Leader of Milton Keynes Council. The debate featured contributions from the audience about key issues affecting the development of smart cities – including air quality, climate change, planning powers and the role of universities – and is summarised in the Journal of The Foundation for Science and Technology where Professor Mair's article appears.
Professor Mair concludes: "This gives greater efficiencies in design and performance, and facilitates rational strategies for whole life maintenance and asset management. There is huge potential here for city infrastructure, both old and new, and this will be of great benefit to its citizens."
Read 'Taking a smart approach to 21st century infrastructure' in the Journal of The Foundation for Science and Technology, volume 22, number 1, July 2017 here. 
Read about the FST debate 'Making cities work - the application of technology, science and infrastructure improvements to create a place where citizens wish to live' here