Industry publication Infrastructure Intelligence has published an article highlighting a collaborative research project that aims to address challenges to the development of sustainable energy in Africa.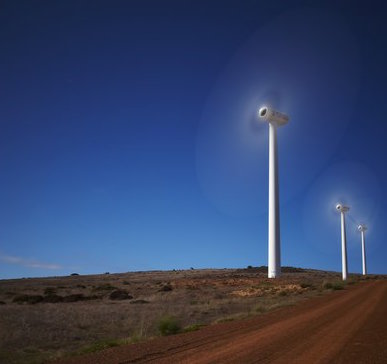 Image: Pieterjan Grobler/Flickr
Despite a wealth of renewable energy resources, particularly wind, the growth of this type of power generation has been limited by the lack of design guidance for turbine foundations on unsaturated expansive soils found throughout much of Africa. Turbine foundations are subject to highly dynamic and concentrated loading.  In areas of unsaturated expansive soil, the behaviour of which is complex and not well understood, foundations have to be designed on a project-by-project basis which can be cost prohibitive.  Additionally, small movements in the foundations can trigger turbine performance problems leading to costly foundation replacement and decommissioning.
This EPSRC-funded three-year project, called WindAfrica, aims to analyse data on the mechanics of partially saturated soil to provide guidelines for the construction of turbines. The project benefits from academic expertise from CSIC, Durham University and the University of Pretoria in South Africa and input from industry project partners including Parsons Brinkerhoff, Jones & Wagener and Gaia-Wind. It is the first of its kind to address geotechnical challenges on this scale. CSIC Co-Investigator Dr Mohammed Elshafie, the Laing O'Rourke Lecturer in Construction Engineering at the University of Cambridge, will lead the field-testing for the WindAfrica project which will begin later this year in Sudan where the soil is representative of a large part of East Africa.
Extensive analysis will be completed on the collected field data, followed by physical modelling and numerical analysis. The combined data will inform a simplified semi-analytical model for foundation deformation and bearing capacity and provide foundation design guidelines for wind turbines in Africa.
Applying these guidelines will enable the growth of a sustainable energy market in Africa by reducing the current financial burden associated with constructing foundations for wind turbines. The knowledge transfer of this project means UK industry will gain a competitive advantage in a new area of construction.
Read the full article in Infrastructure Intelligence here. The website for WindAfrica is currently under construction and will feature blogs following the activities and progress of the project.