Professor Lord Robert Mair, Head of CSIC, has written a letter published in the Royal Academy of Engineering's magazine and website Ingenia (Issue 71, June 2017) outlining the ways in which virtual reality (VR) has a crucial role to play in transforming infrastructure and construction.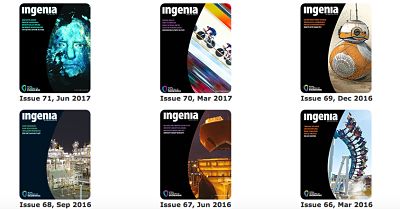 In 'Virtual and mixed reality is transforming construction', Professor Mair responds to the article, 'How virtual reality is changing engineering', Ingenia 70, which explores how three companies – Jaguar Land Rover, Arup and Siemens – are using immersive technologies to transform their engineering processes. The author, Professor Anthony Steed, from the Virtual Environments and Computer Graphics group at UCL states: "It is clear that engineering is a field where VR is already making a huge impact. In general, it allows access to situations or simulations that would otherwise be difficult to visualise or be inaccessible to anyone except the specialists involved. By realising a virtual model, communication and interaction with designs and processes is made more efficient."
In his letter Professor Mair notes the timely content of Professor Steed's article and extends the subject to highlight the work of CSIC collaborators at the Construction Information Technology Laboratory (CIT) at the University of Cambridge. Under the direction of Dr Ioannis Brilakis, the research team is developing a pioneering mixed-reality technology, in collaboration with Trimble and Microsoft, which can visualise Building Information Models (BIMs) in full scale to view from the office or superimposed on the real structure at construction sites.
Professor Mair writes: "Construction processes and completed infrastructure can be potentially transformed as this mixed-reality technology is combined with other new tools and technologies, including fibre-optic strain measurement, ultra-low power sensors, vibration energy harvesting devices, photogrammetric monitoring systems, computer vision and data management tools."
The letter also draws attention to the opportunity presented by the current digital abundance for smarter infrastructure. Professor Mair concludes: "To enable this, the need to invest in digital infrastructure across the UK cannot be overemphasised. The Building our Industrial Strategy Green Paper recognises this and highlights the importance of digital skills, where a large gap appears between the requirements of the future and the level of provision in our education system. Enhancing digital skills at all levels will be key to a successful long-term industrial strategy. STEM subjects should be given much more emphasis in primary as well as secondary schools. To exploit innovative sensor and virtual reality technologies, our future engineers will need to be fully conversant with software, computing and coding; only then we will see the huge potential for smart infrastructure and construction fully realised."
Read Professor Mair's letter in Ingenia here.
Read about CSIC's mixed-reality research in the CSIC Annual Review here.
Read about CIT here.