This year's Annual Review, which features a foreword by Sarah Hayes, Senior Regulatory Advisor for the National Infrastructure Commission, and a contribution from Dr Anne Kemp, Director at Atkins – BIM Strategy and Development Chair, UK BIM Alliance, brings focus to the role of data to drive improved value and deliver a better experience for infrastructure users.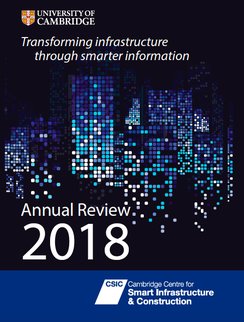 "We are fundamentally looking for solutions to the challenges around the built environment – driven by data – and that data comes from multiple sources which needs to be integrated. This is why the development of open standards, to support such integration in a dynamic way, is critical to progress," said Dr Anne Kemp.
A number of CSIC case studies and integrated smart solutions are presented which demonstrate successful collaborations with CSIC partners to bring solutions to challenges faced by industry on a range of infrastructure projects featuring both new and existing assets.
"The UK has the potential to lead one of the defining developments of the 21st century. The intelligent use of digital technologies will enable the country to maximise the whole-life value of our built assets and create a digital and smart economy that will bring benefits to all. The key to securing this potential is collaboration between stakeholders in research, policy and practice. By working together we will all benefit," said Dr Jennifer Schooling, Director of CSIC.
Download the review by following the links below. Copies can also be posted on request.  Please contact Dee Dee Frawley at csic-comms@eng.cam.ac.uk for further information
CSIC Annual Review (read online)
Download PDF (single page for mobile and print)