Dr Anne Kemp, Chair of the UK BIM Alliance and Fellow and Technical Director for Digital Engineering and BIM Strategy and Development at Atkins has been awarded the Order of the British Empire (OBE) in the Queen's Birthday Honours list for 2019 for services to Digital Construction Innovation.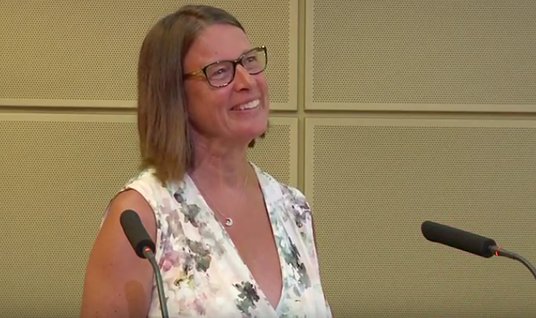 Image: Dr Anne Kemp presenting the CSIC Distinguished Lecture 2018
Dr Kemp said: "I'm so thrilled to receive this award and grateful to be working during a time when it's widely accepted that we need a golden thread of information."
Named Geospatial Professional of the Year at the GEO Business 2019 awards in May this year, Dr Kemp is widely recognised for her expertise in digital engineering. Based on her recent MSc research, she has also established a reputation in thought leadership around people and collaborative working and the psychological implications of our merging virtual and physical worlds.
Dr Kemp delivered CSIC's Distinguished Lecture in 2018; titled 'A glimpse into the future.... by considering the past. The challenges, the opportunities – and our consciences,' the lecture drew attention to the potential of smarter infrastructure to support a healthier and more prosperous society but raised questions about the ethics required to safeguard data use and how to ensure that, as humans, we remain an essential part of the decision-making process.
Dr Jennifer Schooling OBE, Director of CSIC, said: "Everyone at CSIC is delighted for Anne. This award is well deserved as Anne has made an outstanding contribution to transforming infrastructure and construction and is an excellent ambassador for digital innovation. We send her our warmest congratulations."
Chair of the UK BIM Alliance and buildingSMART UKI, and convenor of international and UK standards for BIM (ISO19650 and the PAS1192 series), Dr Kemp is also convener for the strategic direction of digital transformation within the built environment for ISO. She was named an ICE Invisible Superhero – "Digital Dynamo" and was awarded the ICE President's Award 2017. A member of the Management Advisory Board for the Centre for Digital Built Britain (CDBB) and part of CDBB's Digital Framework Task Group (DFTG), Dr Kemp has made a significant contribution to a wider understanding of how the construction and infrastructure sectors can adopt a digital approach to better design, build, operate, and integrate the built environment.
Read the full Atkins News Release here.