Head of CSIC and incoming ICE President, Professor Lord Robert Mair, selects the Future Leaders for his term in office.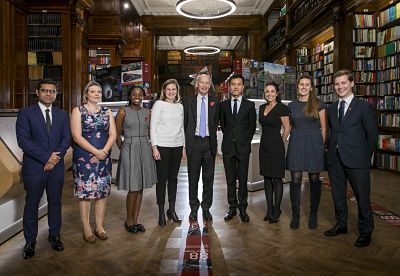 Image (courtesy of the ICE): The President's Future Leaders for 2017/18 ( from left) Asif Huq, Louisa King, Ayo Sokale, Simone Schmeider, ICE President Professor Lord Robert Mair, Max Ng, Meghan Fick, Charlotte Murphy and Will Lavelle.
The ICE President's Future Leaders Scheme (formerly the President's Apprentice Scheme) is open to all technicians and ICE graduate members working towards their professional qualification. Since the first intake in 2005, the scheme has offered a unique opportunity to gain experience, develop skills, learn about the industry and be mentored by the ICE President.
The eight successful Future Leaders will attend ICE events, meet senior industry people and join Lord Mair on regional visits. They will also select one of several projects to help make a real contribution to the profession.
At the end of the President's 12-month term the Future Leaders automatically become part of the President's Future Leaders 'alumni network', which provides opportunities to engage and network with a dynamic peer group for the rest of their career.
Lord Mair's Future Leaders are:
Ayo Sokale
A Graduate Civil Engineer for the Environment Agency, her responsibilities have included project managing the Abingdon Flood Alleviation Scheme and leading the Assurance and Approvals work stream on the Oxford Flood Alleviation scheme. She is currently on secondment to West Berkshire Council as a site supervisor on an Environment Agency flood alleviation scheme.
Louisa King
A Graduate Engineer with Waterco Consultants, Louisa has a particular interest in water sustainability and environmental issues.
Meghan Fick  
An Assistant Technician at Arup in Belfast specialising in AutoCAD, a commercial computer-aided design and drafting software application.
Charlotte Murphy
A Graduate Structural Engineer at Arup working with bridges. Charlotte graduated in 2016 from the University of Cambridge.
Asif Huq
A Graduate Engineer working at Transport Scotland who is currently seconded to AECOM's Bridges and Structures (Scotland & Ireland) team.
Will Lavelle
A Graduate Structural Engineer at Atkins who has worked on a series of projects including working as part of the management team for the Old Oak Common Maintenance Depot and the structures/management team for Crossrail Anglia.
Max Ng
A Graduate Engineer at MTR Corporation Limited based in Hong Kong.
Simone Schmieder
A Graduate Geotechnical Engineer at engineering consultancy Wood Thilsted.
Lord Mair hosted a reception for his Future Leaders before making his inaugural address at the London ICE HQ on 7 November when he set out his vision for the year ahead.
Ayo Sokale said: "I am so honoured to be selected as an ICE President's Future Leader – it's an amazing opportunity to be a part of. I look forward to working with the ICE on many of their key projects to further our outreach, innovation, and impact to promote civil engineering. As we reach our 200-year anniversary, it is especially crucial to step back and remark on our progress whilst making plans for a more sustainable future."
Max Ng said "Coming from Hong Kong and ready to be inspired by talents in other parts of the world, I look forward to taking part in the ICE 200 campaign, as well as Prof Lord Mair's vision for our profession to transform lives with innovation and technology."
This article is based on the original published at www.ice.org.uk. Read here.