Submitted by L. Millard on Wed, 29/03/2017 - 16:11
---
According to an investigation by the RAC Foundation the number of substandard road bridges in Britain has risen 35 per cent to 3,203 in just two years. The resulting cost of clearing the backlog of work associated with the deterioration of the country's bridge stock is estimated to be £3.9 billion.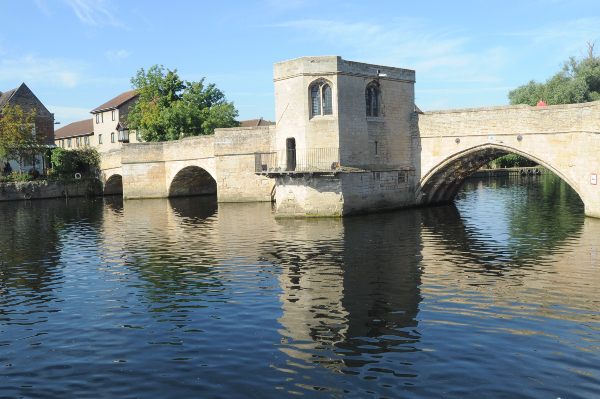 However, the survey of local authority highway bridge teams by the RAC Foundation and ADEPT (the Association of Directors of Environment, Planning and Transport), and data obtained from organisations responsible for national roads and bridges across England, Scotland and Wales, reports authorities are spending an eighth of that figure per year maintaining their bridge portfolios.
In an article highlighting the report, industry publication Infrastructure Intelligence  brings attention to "growing concern over a chronic lack of funding for local authorities' bridge repairs" and quotes Liz Kirkham, chair of the ADEPT Bridges Group, who relates the problem to a skills shortage and wider effects: "The problem is only compounded by the skills shortage in STEM (Science, Technology, Engineering and Maths), which is having a serious impact across all engineering and manufacturing sectors. A growing number of substandard and restricted bridges that are not adequately maintained affect journey times and for rural communities in particular have an economic impact, creating barriers to growth." 
CSIC is working with industry partners and organisations to transform infrastructure and construction through smarter information and technology and establish the UK as a global leader in Smart Infrastructure. CSIC's well-received paper, Promoting Adoption of Smart Infrastructure Solutions in the Transport Sector, that makes recommendations to the Department for Transport (DfT) Chief Scientific Advisor, acknowledges:
• the need to make use of the UK's existing ageing infrastructure more efficiently
• the challenge of applying a coherent national strategy to maintenance of our transport assets, including bridges, which are managed locally while contemporary records of them are held corporately
• the skill-sets needed to manage infrastructure are changing.
CSIC is working collaboratively to apply 'Smart' to improve the asset management and maintenance of bridges. Current projects include:
Bridge prioritisation maintenance tool
CSIC has designed an analytical approach to improve the maintenance prioritisation for bridge systems using predictive maintenance. This innovative tool will be of particular interest to councils responsible for a bridge portfolio. At the bridge level, detailed deterioration models were formulated for different components of bridges under a range of exposure levels. At the system level, the economic dependence and two different levels of structure dependence are considered.  The timing of maintenance activities is then optimised for the system based on current predictions for both risk and cost with a goal of reducing the traffic management cost by combining maintenance activities. Working with a local authority, CSIC assessed the effectiveness of the model on a road bridge system. The result showed that significant maintenance costs (approximately 10 per cent) can be saved by implementing this approach.
Innovative application of sensing technology brings new understanding of complex structural response of masonry arch bridges
CSIC's deployment of fibre optic sensing to monitor masonry arch bridges has resulted in new insights into the behaviour of this type of structure and could provide a simple and affordable method to identify structural damage. Working with Industry Partner Network Rail, CSIC has been monitoring an operational Victorian viaduct in Leeds. The objective is to better understand the dynamic response of the viaduct to rail traffic and identify the mechanisms that drive its degradation, to inform maintenance and long-term asset management. The viaduct is one of around 40,0001 masonry arch bridges that form an integral part of the UK's road, rail and waterway infrastructure.
The dynamic response, measured while trains pass over the viaduct, was monitored on two adjacent spans of the viaduct using a Fibre Bragg Grating (FBG) sensing system marking, to our knowledge, the first deployment of FBG sensors in a masonry viaduct worldwide. Evaluation of the resulting fibre strain data was made possible with a novel non-contact videogrammetry solution, provided by video-based, non-contact precision measurement specialists, Imetrum. The results demonstrated excellent agreement and highlighted the ability of fibre optic cables to detect very small strains to illustrate the flow of forces inside the structure.  Laser scanners were used to create a 3-D model of the underside of the arch to measure how the structure has deformed over time.  The analysis of the deformed geometry from these models has enabled CSIC researchers to quantify the critical movements experienced by the structure in the past. An understanding of these movements has also helped develop a better understanding of the dynamic response of the viaduct to rail loads as it is also influenced by this existing damage.
This novel approach to monitoring and data analysis allows more accurate and value-driven evaluation of the effectiveness of potential intervention techniques and will better inform maintenance programmes. CSIC researchers are now aiming to apply the understanding of the response of this particular bridge to other similar viaducts and also plan to explore critical engineering issues including the influence of increasing train speed and the angle of bridge skew on the dynamic response of arch bridges.  
Real-time bridge monitoring system delivers multiple stakeholder benefits
The Staffordshire Alliance, which comprises Atkins, Laing O'Rourke, Network Rail and VolkerRail, is an award-winning example of the positive effects of collaboration. This multidisciplinary team successfully delivered the Stafford Area Improvements Programme (SAIP), a £250 million rail upgrade and development project on the West Coast Main Line, under budget and more than one year ahead of schedule.
Working with Industry Partners Network Rail, Laing O'Rourke and Atkins, CSIC engaged with the Staffordshire Alliance at the early stages of this project to deploy novel fibre optic sensor (FOS) networks for use in short and long-term performance monitoring, delivering the most comprehensively instrumented new rail bridges in the UK. More than 500 discrete sensors and in excess of 600 metres of distributed sensing cable were installed on two of the eleven new bridges being constructed as part of the scheme. The pervasive network of fibre optic strain cables, akin to a nervous system in a living organism, can sense strain changes in a structure caused by external forces. The bridges, completed in April 2016, are more than just passive masses of concrete and steel – they act as 'self-sensing' structures capable of informing asset managers and engineers of their changing condition.
The project has led to the development of procedures to integrate sensing technologies during on-site and off-site construction in concrete bridge beams, on steel beams, and within concrete bridge decks. These enable Laing O'Rourke to access information on the performance of their assets throughout the construction process – providing the quantifiable means on which to confirm the quality of workmanship.  
Data generated by sensor technologies enables the continued monitoring of an asset throughout its productive lifecycle. For designers Atkins, the 'self-sensing' bridges can provide critical information about the actual stresses and strains that the bridges experience under real loading conditions – information that most engineering designers simply do not have access to.
The monitoring system has the potential to be controlled remotely, allowing data to be collected, analysed and assessed in real time from an asset manager's office. Based on the analysed data, the system can provide the quantitative evidence for removing the uncertainties when determining additional structural capacity in the future. Using real performance data gathered over time to inform maintenance schemes will represent a step-change in how these types of assets will be managed in future.
Related links:
http://www-smartinfrastructure.eng.cam.ac.uk/news/csic-recommendations-for-dft
http://www-smartinfrastructure.eng.cam.ac.uk/news/using-new-sensing-technology-to-understand-the-complex-structural-response-of-masonry-arch-bridges
http://www-smartinfrastructure.eng.cam.ac.uk/news/creating-smart-infrastructure-through-smart-alliances