This two day event is comprised of AUM2017 on the 22nd June 2017 and the CSIC EMERGING CONNECTIONS WORKSHOP on the 23rd June 2017.
SUMMARY OF WORKSHOP DISCUSSIONS
Please click here to see a PDF document summarising the discussions that were held at the Emerging Connections workshop on the 23rd June 2017.
AUM2017
AUM2017 is the sixth in a planned series of annual symposia on applied urban simulation models. This year's focus is on major modelling applications. 
CSIC EMERGING CONNECTIONS WORKSHOP
This year a CSIC workshop on Emerging Connections: tomorrow's cities and their infrastructure will comprise the second day of AUM2017. This workshop is hosted by Cambridge Centre for Smart Infrastructure and Construction (CSIC) and is part of CSIC's 'Transitioning Cities' programme sponsored by the Ove Arup Foundation.
A full information pack for the workshop can be downloaded here.
The Emerging Connections workshop focused on the challenges of integrating the diversity of approaches endemic to the wide range of disciplines and professions involved in managing and designing our cities and urban spaces. In a world where big data is becoming ubiquitous, our traditional professional and academic silos are not appropriate to address the challenges of designing interventions that meet the needs of diverse urban citizens. We approached these challenges of through a small number of focused workshop sessions, each including 3 presentations and ample time for discussion and participation.
Presentations were given by multiple speakers including
Dr Luca Maria Aiello, NOKIA Bell Labs

Prof Stuart Barr, School of Civil Engineering and Geosciences at Newcastle University
Mark Bew MBE, Chairman HM Government BIM Working Group
Volker Buscher, Director in Arup's Consulting practice and leader of the Information and Communications Technology business
Ruth Duston, Chief Executive of Victoria BID
Prof Gillian Rose, Fellow of British Academy at the Open University
Dr. Navil Shetty, Director and Network Chair in Atkin's Strategic Asset Management
Andrea Silberman, Senior Economic Adviser, UK National Infrastructure Commission
Stefan Webb, 

Head of Projects at Future Cities Catapult
PDF versions of the presentations can be downloaded below.
Assessing the performance of infrastructure across space - Andrea Silberman
Smart Infrastructure for a Smart Sustainable City - Navil Shetty

A Geospatial Framework for Integrated Urban and Infrastructure Systems Modelling - Stuart Barr
Moving from Productivity to Social Outcomes - Mark Bew
Cities Digital Agenda - Volker Buscher
Delivering prosperity and diversity through business improvement district projects - Ruth Duston
Future of Planning - Stefan Webb
We explicitly encourage debate across the social and physical sciences, recognising that the language and concepts employed differ, but the focus on cities, urban spaces and citizens is shared across the related fields.
MORE INFORMATION
A full information pack can be downloaded here
A poster can be downloaded here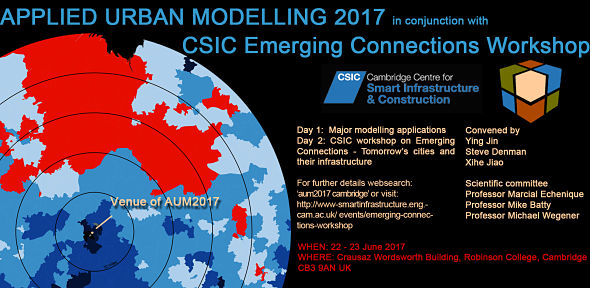 Date:
Thursday, 22 June, 2017 - 00:00

to

Friday, 23 June, 2017 - 00:00