Dr Liam Butler, a CSIC Research Associate, has been cross-appointed to The Alan Turing Institute's Data-Centric Engineering (DCE) programme from March this year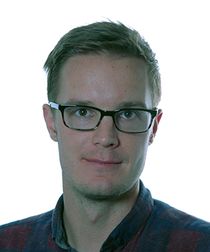 Dr Butler will be working with Prof Mark Girolami, who leads the DCE programme, and a number of research collaborators at The Alan Turing Institute and the University of Cambridge, to investigate how disruptive sensing technologies combined with DCE approaches can be used to better understand critical structures, next-generation materials and the long-term resiliency of our built environment.  
"My future research in this area opens up many avenues of application.  I am particularly interested in how DCE approaches can be applied not only to help better understand instrumented infrastructure but also for accelerating development of next-generation construction materials and improving the overall resilience of our built environment," said Dr Butler.
The Alan Turing Institute, which is based at the British Library, in London, is the national institute for data science and undertakes research that addresses some of the biggest challenges in science, society and the economy. Increasing availability of data is fuelling a transformation in data-driven technology that will impact engineering and industry.  In 2015 Lloyd's Register Foundation and The Alan Turing Institute came together to launch a major initiative to address new challenges in data-centric engineering.
"I started working with the DCE programme in March 2017 through a collaborative project on instrumented infrastructure. This involved analysing monitoring data collected from sensor networks that were previously installed by CSIC, as part of the award-winning Staffordshire Alliance project, on two new railway bridges in the UK."
The Staffordshire Alliance collaboration, which featured innovative construction techniques, including offsite manufacturing and digital design, marked the first time new rail bridges had been instrumented in such detail to understand structural behaviour. The data provided feedback that could improve design of future large scale infrastructure projects and inform more efficient asset management strategies."
"The primary goal of this research is to leverage advanced statistical and machine learning techniques to improve the interpretation of structural health monitoring data.  A secondary goal is to develop 'digital twin' of instrumented structures which will exist alongside the physical assets and be updated via a statistical process as new data is collected," said Dr Butler. "These DCE-enabled models can then be used to perform 'what-if' scenarios providing asset managers with a powerful tool for assessing long-term risk."
​
Read more about Dr Butler's research here.
View Pecha Kucha here.
Read more about The Alan Turing Institute here.
Read more about the Staffordshire Alliance project here.