Mehdi Alhaddad has won the coveted Highly Commended Digital Innovation category at this year's Chartered Institute of Building (CIOB) International Innovation and Research Awards for his Photogrammetric Monitoring of Construction Environments and Surrounding Assets.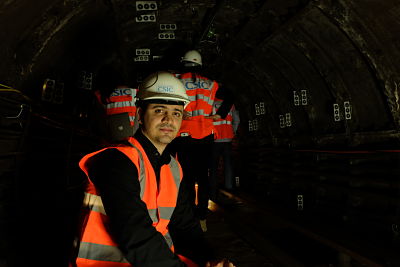 Image: Mehdi Alhaddad wins CIOB Highly Commended Digital Innovation Award
Mehdi, a PhD student at CSIC, has developed a new photogrammetric system, CSattAR, designed to monitor tunnel deformation with great precision yet at a fraction of conventional costs. The system has been installed in a number of tunnels to monitor the integrity of structure while other construction activities were taking place close by. Deployments include monitoring operational London Underground tunnels, and other underground spaces affected by the excavation of the Crossrail project.
The judging panel was impressed with the application of photogrammetric technology to the monitoring tunnel deformation and structure integrity:  "The strength of this innovation lies in its relative simplicity, accuracy and un-intrusive nature. This new photogrammetric system shows strong potential in the broader context of monitoring infrastructure works." 
Mehdi, who is presenting CSattAR at the Ground Engineering and Monitoring 2016 Conference, at Inmarsat, London, on March 15 to 16,  said: "I am delighted to win this prestigious award. Competition in the category is fierce so winning the Highly Commended award reflects very well on CSattAR and acknowledges the benefits this system offers to industry. I am now looking forward to taking CSattAR to full commercial readiness."
More than 160 entries from 18 countries vied for the top awards which celebrate the best ideas in Digital Innovation, Innovation in Education and Training and a range of research categories.  
Professor Stuart Green FCIOB, Chair of the Judging Panel, said: "These awards are now firmly established in the innovation landscape. They have achieved global status and the dominant quality continues on a strong upward curve. This year's entries have been especially impressive and success in innovation and research should be celebrated. The winners deserve every recognition."
The benefits of using CSattAR system are:
low cost – saving up to 90% costs as compared to alternative systems
accuracy and precision – at resolutions of greater than 0.1 mm 
redundancy – monitoring more points at no additional costs
real-time visual inspection – the software can be used to inspect structures and monitored points in real time in advance of human deployment
structural disruption – no need to install targets and often natural features on structure can be tracked as a target
installation – the system is small in size and easy to install, in some cases it is possible to install the system in one day
historic monitoring – images can be archived within BIM and re-examined for additional points when needed.
For more information on the CIOB International and Innovation Research Awards click here