CSIC projects demonstrate the value and benefit of smart infrastructure solutions and deliver innovation at the cutting edge of research and in application. Some of our most recent projects include:
Fibre optic sensing systems for safer real-time rockfall monitoring of rail cuttings
The Hooley Cutting, near south London, carries the main railway line from London to Brighton through the North Downs. The 30m-deep cutting slopes are susceptible to landslides and need measures to prevent rockfalls reaching the tracks, which have caused train derailments and line closures in the past. The cutting slopes have been covered with rockfall mesh to collect any falling debris, but there have been failures behind the mesh causing it to bulge towards the track. A method was needed to provide an early warning of failures; CSIC was commissioned by Network Rail to provide a solution.
The virtual lab: data-led decision-making to optimise economic growth and development
CSIC Investigator Dr Ying Jin from the Martin Centre for Architectural and Urban Studies, Department of Architecture at the University of Cambridge, heads the Cities and Transport Research Group. He is currently leading a three-year 'Cambridge Futures 3' modelling study, funded by Cambridgeshire and Peterborough Combined Authority and Cambridge Ahead, to design and examine alternative scenarios of workplaces, housing and transport to 2031 and 2051. The model is helping to foresee the effects of future planning options for Greater Cambridge and the project will continue to support the local land use and transport plan for a further three years.
Multi-sensing structural health monitoring of a skewed masonry arch bridge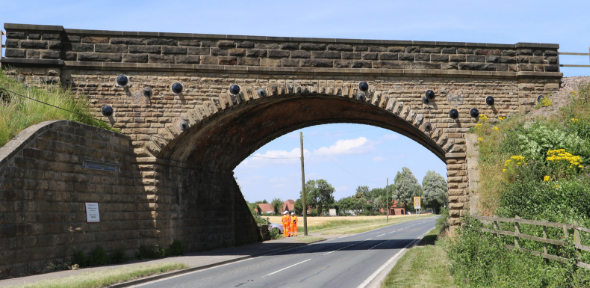 In 2018, Network Rail commissioned CSIC and AECOM to install structural health monitoring technologies on a skewed masonry arch bridge in North Yorkshire, which had suffered extensive historic damage. The technologies would monitor how the 150-year-old bridge behaved structurally and how it was responding to intervention work carried out in 2016. Network Rail also wanted to explore available monitoring technologies to determine which ones worked well and could be used on other assets.
Digital Cities for Change: next-generation tools for city planning and management
The challenges for modern cities to deliver smart systems for its citizens are complex and cut across many traditional disciplines. CSIC's Digital Cities for Change project, funded by the Ove Arup Foundation and the Centre for Digital Built Britain, evaluates both the existing structures and systems of city and infrastructure management, and investigates how digital tools can help better decision-making within these areas.
Innovation in sensing to monitor the influence of tunnelling under heritage structures
CSIC collaborated with the contractor Dragados and its monitoring arm, Geocisa, under the guidance of London Underground, to monitor the structural response of Christopher Wren's Grade I listed St Mary Abchurch and George Dance's Mansion House during major tunnelling work taking place under the buildings, as part of the Bank Station capacity upgrade.